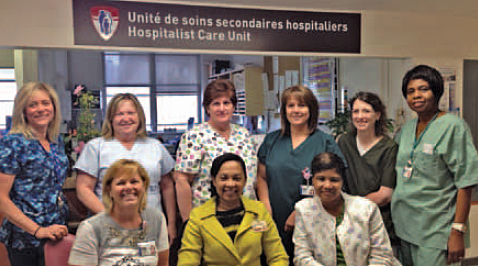 Dr. Anita Brown-Johnson, Chantal Lefebvre and the Hospitalist Care Unit nursing staff.
After suffering from incessant vertigo and difficulty controlling some of her motor functions, Florence Mildred Reid arrived at the McGill University Health Centre (MUHC) Hospitalist Care Unit in June of this year.
Reid has a rare autosomal dominant genetic mutation, which causes a slowly progressive, neurodegenerative movement disorder with ataxia, slurred speech, dizziness and occasional debilitating vertigo. Inspired by patients like Reid who require chronically acute or complex continuing care, and knowing that the available models of health care in Montreal were not adequate to efficiently manage such patients in the community, Dr. Anita Brown-Johnson, supported by a team, established the Hospitalist Care Unit in late 2012 at the Royal Victoria Hospital (RVH).
Dr. Brown-Johnson's vision was to provide an alternative model of restorative care, which involved enlisting the expertise of an interdisciplinary team, including  family physicians, nurses, social workers, pharmacists, occupational therapists, physiotherapists, clinical nutritionists, geriatric and psychiatry clinical nurse specialists. This team is supported by general internists, psychiatrists, psycho-geriatricians, neurologists and other diverse sub-specialty consultants. With this model, delivery of care is better adapted to the patients' needs, improves their overall experience while at the hospital, and allows for more timely discharges.
"We wanted to help streamline the treatment of our patients, who are typically older men and women, in order to reduce re-hospitalizations," says Dr. Brown-Johnson, who is the director of the Hospitalist Unit. "Patients at this stage in their lives often have a series of complex co-morbidities, as well as occasional psycho-social issues that require treatment. Typically, such patients would be treated in one department, be discharged and then be readmitted to the hospital in another department, in a persistent cycle. This unit is designed to break that cycle."
The establishment of the Hospitalist Unit was a huge undertaking. "With the implementation of the "Programme d'hébergement pour evaluation" at the RVH and Montreal General Hospital (MGH) sites in Fall 2012, we proceeded to close two transition-care units, one at the MGH (16 East) and one at the RVH (S7W), and renovated this floor even as patients were being discharged," says Dr. Brown-Johnson. "In short, we transformed this care unit to make it safer and more accessible for our patients."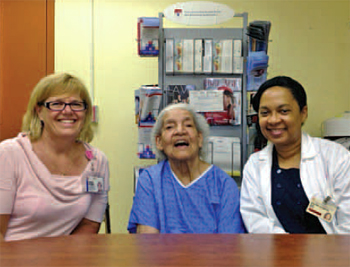 Chantal Lefebvre, Florence Mildred-Reid and Dr. Anita Brown-Johnson
By early December 2012, the first influx of patients was admitted, and within the first six months of operation, the Hospitalist Unit showed better than expected efficiency. "By six months we admitted 131 patients, which is two and a half times the volume the former transition care unit would have seen at this stage of the year," explains Dr. Brown-Johnson. "I want to add, with great pride, that we have accomplished this while maintaining the same ratio of very hard working nursing staff to patients as before."
Chantal C. Lefebvre, nurse manager of the Hospitalist Unit, offered some insight into the nursing staff's challenges in the creation of the new unit. "We did a satisfaction survey of the nursing staff during the transition period, and it was clear that stress levels were high. We needed to efficiently adapt our work flow to the increased turn over and acuity of the unit. However, when we repeated the survey in April, morale among the staff was very high. About 95 percent of my team has the intention of staying on, following the early success of the Hospitalist Unit."
Reid was very pleased with the care she received in the new unit, and recounts the warm reception the nursing, medical and interdisciplinary staff provided her. "I am not feeling as dizzy as I used to be and the people are so nice here," she says with a smile. "I love it here."